American Geriatrics Society Newsletter 2017 Volume 48, Number 1
In Letters to President Trump and Congress, AGS Highlights Programs Essential to Supporting Older Adults
In letters to then President-elect Donald Trump and bipartisan leaders of Congress, the AGS earlier this year reinforced the importance of collaborating to support older Americans through critical programs and policies.
"In our letters, we focused on programs that are critical to the clinical care of older Americans and their families, and on ensuring that we have a workforce with the skills and competence to care for us all as we age," notes Nancy E. Lundebjerg, MPA, Chief Executive Officer of the AGS. "We look forward to working with the Administration and Congress on public policy solutions that will achieve our vision for a future when every older American receives high-quality, person-centered care."
As outlined by the AGS, that vision for the future involves federal and state policies that continue to:
Expand healthcare options for older adults so that more of us can live independently for as long as possible, understand the unique health needs that come with aging, and support our current and future caregivers with adequate resources;
Ensure that initiatives for rewarding quality in health care take into account the unique health circumstances of all older people, particularly those living with multiple chronic conditions or complex care needs;
Strengthen primary and preventive care and care coordination;
Address the acute and growing nationwide shortage of geriatricians and all geriatrics healthcare professionals, while also ensuring that other clinicians have training that prepares them to care for older people; and
Step up research concerning healthy aging, the prevention, diagnosis and treatment of age-related health problems, and the cost-effectiveness of various approaches to care.
The AGS also outlined its policy positions on changes to Medicare and Medicaid, and on repealing health reforms that might increase costs, reduce coverage, or cut benefits. Additional recommendations stressed continuing innovations in care delivery and care coordination, as well as serving the needs of American veterans. As noted in our letters, the AGS believes these and other key programs at the state and national level "will ensure that older Americans can continue to make meaningful contributions to their communities."
These letters join an array of advocacy and public policy updates from the AGS since the start of the new year. Even earlier in January, for example, the AGS submitted a comment letter to the Centers for Medicare and Medicaid Services (CMS) on patient relationship categories and codes required by the Medicare Access and CHIP Reauthorization Act (MACRA). The AGS letter to CMS asked for clarification regarding the proposed description and use of categories and codes to ensure they minimize reporting burdens, allow for consistent and accurate reporting, and lead to better outcomes of care when they are implemented in 2018. Be sure to visit the Advocacy & Public Policy Center on AmericanGeriatrics.org for ongoing updates from Washington and across the U.S.
In a State Where "Everything's Bigger," Texas Holds Promise for Expanding Geriatrics Expertise as Site for #AGS17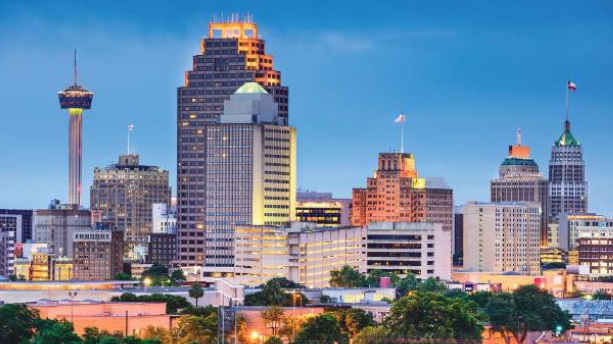 "I have said that Texas is a state of mind, but I think it's more than that," extolled John Steinbeck in his now famous Travels with Charley. The same might also be said for geriatrics in the heart of Texas, as the AGS prepares to bring the field's premier educational forum for clinical care, research on aging, and innovative care delivery models to San Antonio, TX (May 18-20; Preconference: May 17), to toast the Society's 75th anniversary of leading change and improving care for older adults.
We'll be joined by nearly 3,000 physicians, nurses, pharmacists, physician assistants, social workers, long-term and managed care providers, healthcare administrators, students, journalists, and other geriatrics stakeholders who will learn from a Texas-sized program encompassing more than 800 abstract submissions and inclusive of more than 100 events.
"This is a special year for the Annual Scientific Meeting since it's the AGS's 75th anniversary," notes Paul Mulhausen, MD, MHS, FACP, AGSF, #AGS17 Program Chair. "This meeting will be a celebration not only of how far we've come in the field, but also of the research and innovations that will drive our future—the best care possible for older adults."
Visit AmericanGeriatrics.org for the program schedule-at-a-glance, as well as detailed descriptions for the 100+ events comprising #AGS17.
Goal-Oriented Care for Older Adults in Specialty Clinics (Thurs., May 18; 7:30-9am CT)
This session presents novel approaches and initiatives for developing, evaluating, and integrating person-centered, goal-oriented care in specialty geriatrics clinics that manage everything from chronic pain and depression to cardiology, mental health concerns, and primary care coordination.
Plenary Paper Session (Thurs., May 18; 10-11am CT)
This session will highlight the top research abstracts submitted for presentation at #AGS17 from a pool of more than 800 contenders.
AGS 75th Anniversary Lecture (Thurs., May 18; 11am-12pm CT)
Where have we been? Where are we going? To toast the anniversary of the AGS, join us for a special lecture by Past President James Pacala, MD, MS, AGSF, to reflect on the past, present, and future of geriatrics expertise.
Controversies in Implementation of the Beers Criteria: To Deprescribe or Not to Deprescribe (Thurs., May 18; 1-2pm CT)
This session will offer solutions to common challenges and controversies when applying the AGS Beers Criteria to reduce the use of potentially inappropriate medications.
Providing High-Quality Dementia Care in 2017 and Beyond (Thurs., May 18; 2:45-4:15pm CT)
This symposium will explore strategies for providing optimal dementia care, including how to implement successful dementia care models and embrace cultural diversity when coordinating care.
Presidential Poster Session (Thurs., May 18; 4:30-6pm CT)
The Presidential Poster Session and Reception feature posters that received top-billing from #AGS17 Abstract Reviewers. Light refreshments will be served.
Changing Landscape of Alzheimer's Disease Diagnosis (Fri., May 19; 7:30-9am CT)
This program will explore evidence behind the National Institute on Aging-Alzheimer's Association's recommendation to use biomarkers to strengthen early-stage Alzheimer's disease diagnoses.
Lightning Science: Brief Presentations of Top-Rated Abstracts (Fri., May 19; 7:30-9am CT)
This fast-paced, interactive session will showcase some of the best new research and innovation in aging.
AGS Awards Ceremony (Fri., May 19; 9:15-10am CT)
Join us as we honor some of the best and brightest clinicians, researchers, and educators representing the future of geriatrics.
Thomas and Catherine Yoshikawa Award Lecture for Outstanding Scientific Achievement in Clinical Investigation (Fri., May 19; 10-10:45am CT)
In its inaugural year, the Yoshikawa Award Lecture will recognize the research accomplishments of a mid-career clinician-investigator helping to revolutionize the care of older adults.
Public Policy Lecture (Fri., May 19; 10:45am-12pm CT)
This session will include the very latest information on changes in the policy world as they relate to geriatrics healthcare professionals and older adults. Presenters will keep members up-to-speed on AGS policy priorities and what we can expect from the new Congress and Administration.
That Was the Year That Will Be: Bench Research Findings of 2016 That Will Be at the Bedside by 2021 (Fri., May 19; 1-2:30pm CT)
This symposium will focus on basic science and translational studies that will impact clinical care—including opportunities related to neurovascular, musculoskeletal, vascular, and cellular senescence knowledge—in the next five years.
Drug Therapy Controversies: Clinical Pearls for Your Practice (Fri., May 19; 1-2:30pm CT)
This program will review literature surrounding drug-related controversies for older adults, as well as ways to manage care, communication, and involvement between older adults and caregivers.
Assessing the Effectiveness of Interventions to Prevent or Slow Cognitive Decline (Fri., May 19; 2:45-4:15pm CT)
This session will offer a synthesis of evidence on interventions to delay the onset of cognitive decline. Attendees will learn to describe the state and strength of current research on everything from physical activity to promising pharmaceuticals.
Healthy Aging (Sat., May 20; 7:30-9am CT)
This session will explore "healthy aging" by way of critical questions for our field: What is it? How can we support it? What should geriatrics healthcare professionals do to promote it?
U13 Urinary Incontinence Conference Proceedings (Sat., May 20; 7:30-9am CT)
This session will review proceedings from the National Institute on Aging-sponsored U13 conference on "Urinary Incontinence in the Elderly: A Translational Research Agenda for a Complex Geriatric Syndrome."
Geriatrics Literature Update 2017 (Sat., May 20; 9:15-10:45am CT)
A fan favorite among AGS Annual Scientific Meeting attendees, the Geriatrics Literature Update will focus on 30 of 2016's most important published papers impacting older adults, caregivers, and geriatrics healthcare professionals.
Integrating Geriatrics into Primary Care: Learnings from Four Model GWEP Programs (Sat., May 20; 11am-12:30pm CT)
One of the Geriatrics Workforce Enhancement Program's (GWEP's) primary focus areas is the transformation of clinical training environments into integrated geriatrics and primary care delivery systems. This session will present practice change innovations instituted by 4 GWEP sites.
Emerging Trends in Cardiac Devices: What Geriatricians Should Know (Sat., May 20; 11am-12:30pm CT)
This session will offer expert perspective on the use of implantable cardioverter-defibrillators, cardiac resynchronization therapy, mechanical circulatory support, and transcatheter and surgical aortic valve replacement, as well as device management for those approaching end-of-life.
Pharmacotherapy Update: 2017 (Sat., May 20; 12:45pm-2:15pm CT)
This symposium will address access to medications for older adults, summarizing changes over the past year in pharmacotherapy and prescription drug coverage available to older adults. *
Want to get even more involved in #AGS17? Become an official #AGS17 Twitter Correspondent! You'll help drive the conference conversation online, and you'll get special access to social media content, resources, and helpful guidance. Email Lauren Kopchik (LKopchik@americangeriatrics.org) to sign up today.
#AGS17 Travel & Accommodations
The San Antonio International Airport (SAT) is located eight miles from downtown; travel time is approximately 15-20 minutes. Shuttle service is available to downtown hotels approximately every 15 minutes.
The AGS has negotiated special hotel rates for attendees on a first-come, first-served basis. The Grand Hyatt San Antonio and the Hyatt Regency San Antonio Riverwalk are accepting reservations at 800-421-1442.
Visit AmericanGeriatrics.org for more information on hotel and travel at #AGS17.
AGS360° with Nancy E. Lundebjerg, MPA
I promised I'd keep these letters focused on AGS news you won't hear elsewhere, so I'll start by letting you in on a secret: Did you know that all our AGS staff help field the emails and phone calls we receive at our office? Part of it is practical—we're an all-hands-on-deck team—but part of it is strategic: it's helpful to have our ear to the ground on what you need, what you're having a hard time finding, and how we can help bridge the two.
"What can I do about…?" is a question we hear often. It's evolved over my time at the AGS, and it's a question we've been hearing more since the 2016 election. I don't think that's a purely political point. Engagement on both sides of the aisle—and on issues that aren't strictly limited to a political party—has been a welcome byproduct of this election. We may not all agree on the answer, but I've noticed that our members have been using that question to become more involved in the issues that matter to them.
From where I stand, that's a good thing—and it's important for two critical reasons.
First, it helps the AGS put time, talent, and resources behind what matters to you and the older adults you serve.
Second—and perhaps more importantly—it represents the fact that we have truly dedicated members who mean it when they ask "What can I do about…?"
To my first point about the AGS's influence, we've been working hard to remain a strong advocate for important programs, policies, and principles:
Early in January, we reached out to President Trump and Congressional leaders to reiterate our commitment to work collaboratively on programs important to geriatrics health professionals and older people.
We've also reiterated specific stances reflecting our core beliefs as an organization that embraces diversity in our membership (as codified in our By-Laws) and in our employees. In January, we made a public statement about our opposition to any orders or legislation that might unfairly target people based on race, color, religion, national origin, gender, sexual orientation, age, or disability. We did so because we wanted to help policy makers, the public, and healthcare professionals understand aspects of our core values in geriatrics.
As I write this, we're working with our AGS leaders to identify other issues where AGS should have a policy statement ready. As with all things, we'll take policy positions that align with our values as a Society, and we'll focus on issues that impact you and the older people you serve.
I also want to acknowledge that I've stepped out of my own comfort zone as an advocate—expanding the types of activities I participate in and the topics I focus on. Over the past several months, I've addressed a number of issues where, as a citizen, I want to be active in assuring that my own personal values are heard. I encourage each of you to do the same. I firmly believe that the most challenging issues we face will need our collective energy and intellect. So, back to "What can I do…?"—the most important thing these days is to engage. While I don't have enough space here to walk through all the changes I've made, I want to highlight just a few tips for one of my favorite platforms: Twitter.
Twitter, as those of you who've heard Eric Widera (@EWidera) or Alex Smith (@AlexSmithMD) speak know, is a great source for news, and it's emerging as a tool for advocates. Here are some things Eric and Alex suggest we do:
Be yourself; own what you tweet. Don't forget to put "opinions are my own" in your profile. Tweeting about what you do helps your colleagues and those under your care.
Use Twitter as a news feed—follow a range of publications and you'll be on top of events faster than any publication can deliver news.
If you like what someone has said, retweet it to amplify the message. Not all tweets need to be original.
Find platforms like our Health in Aging Advocacy Center (cqrcengage.com/geriatrics) to connect you to representatives with specific messages that reflect AGS expertise.
The ways we've worked together to make our voices heard will definitely be topics of discussion at #AGS17. I'm looking forward to seeing you there for our 75th anniversary—most especially so I can learn from you, our members, how we can better serve you. At the end of the day, the AGS mission is to improve the health, independence, and quality of life of older adults. We can't do that without you.

Nancy
Chief Executive Officer
Top 10 Most Talked About JAGS Articles in 2016
Here are the top 10 articles published in the Journal of the American Geriatrics Society (JAGS) in 2016 as measured by Altmetric, which provides a measure of the quality and quantity of online attention each article receives in traditional news outlets and on social media.
Can a Healthy Lifestyle Compress the Disabled Period in Older Adults?
DOI: 10.1111/jgs.14314
This study showed walking greater distances and having a better-quality diet were associated with a relative compression of the period spent disabled.
Mediation of Cognitive Function Improvements by Strength Gains After Resistance Training in Older Adults with Mild Cognitive Impairment: Outcomes of the Study of Mental and Resistance Training
DOI: 10.1111/jgs.14542
Anabolic exercise has clinically relevant benefits for cognitive function, muscle strength, and aerobic capacity.
Driving Cessation and Health Outcomes in Older Adults
DOI: 10.1111/jgs.13931
Stopping driving for older adults appears to contribute to a variety of health problems, particularly depression.
Providing Acute Care at Home: Community Paramedics Enhance an Advanced Illness Management Program–Preliminary Data
DOI: 10.1111/jgs.14484
The Community Paramedicine model for treatment of acute medical conditions within an Advanced Illness Management program could enhance current treatment models for homebound individuals with advanced illness.
High Dose Monthly Vitamin D for Prevention of Acute Respiratory Infection in Older Long-Term Care Residents: A Randomized Clinical Trial
DOI: 10.1111/jgs.14679
Monthly high-dose vitamin D3 supplementation reduced the incidence of acute respiratory infections in older long-term care residents but was associated with a higher rate of falls without an increase in fractures.
Compression of Morbidity is Observed Across Cohorts with Exceptional Longevity
DOI: 10.1111/jgs.14222
This work validates previous findings that there is a relative compression of morbidity at oldest ages. The study suggests that this observation may be generalizable to longevity in other ethnically diverse groups.
Willingness and Ability of Older Adults in the Emergency Department to Provide Clinical Information Using a Tablet Computer
DOI: 10.1111/jgs.14366
Approximately half of a sample of older adults in the Emergency Department were willing to provide health information using a tablet computer, but only a small minority of these individuals were able to enter all information correctly without assistance.
Effect of Reproductive History and Exogenous Hormone Use on Cognitive Function in Mid- and Late Life
DOI: 10.1111/jgs.14658
Reproductive life events related to sex hormones— including earlier age at menarche, later age at last pregnancy, longer reproductive period, and use of oral contraceptives—are positively related to aspects of cognition in later life.
Antipsychotic Medication for Prevention and Treatment of Delirium in Hospitalized Adults: A Systematic Review and Meta-Analysis
DOI: 10.1111/jgs.14076
In this systematic review and meta-analysis, the use of antipsychotic medications was not associated with changes in delirium duration, severity, or hospital/intensive care unit length-of-stay.
Global Sensory Impairment in Older Adults in the United States
DOI: 10.1111/jgs.13955
In this study of community-dwelling U.S. adults aged 57 to 85, two-thirds of participants had two or more sensory deficits.
From the President: Ellen Flaherty, PhD, APRN, AGSF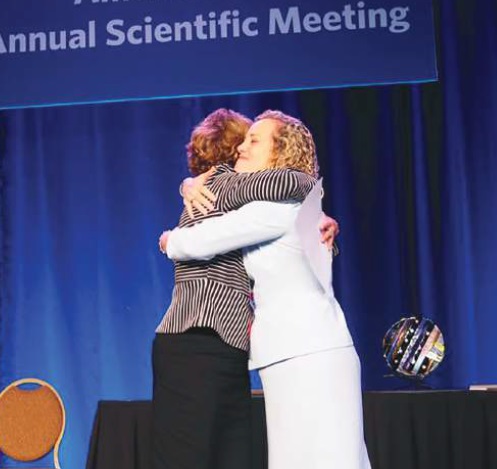 As I thought about what to focus on in this—my last letter as your AGS President—two things kept coming to mind.
The first was how I ended my opening letter to you as AGS President, with a promise to "vigorously continue the AGS's support of our nurse members and the many healthcare professionals who make geriatrics what it is today. The AGS has always inspired the mentor model, so I hope to follow in that tradition…"
The second was the photo you see to the right—a snap-shot of me and Annie Medina-Walpole, MD, AGSF, at the #AGS16 awards ceremony. Emceeing our recognition celebration was one of my first duties as AGS President, as it will be for President-Elect Debra Saliba, MD, MPH, AGSF, at #AGS17 this May.
These may seem like small excerpts from a year's worth of work, but I think they point to something larger. We are and always have been a community of diverse, collaborative peers. And as our ranks have expanded across our 75-year history to encompass nurses, pharmacists, physician assistants, physicians, social workers, students, and many others, it's been wonderful to see our organization not only welcome that change but also work to ensure it. After a year of serving as your President, I think it's safe to say that we're far more than "inspired" by the mentor model; we're now actively leading how it can shape the future of health, care, and interprofessional collaboration.
And that's in part why celebrations like our award ceremony matter so much. Mary Tinetti, MD, AGSF, wrote a great article last year about the humble nature of the geriatrics healthcare professional—an admirable trait, as Dr. Tinetti describes it, but also one that can mask just how influential and important our expertise has become. Don't let our modest nature fool you. We count among our ranks many of the very best and very brightest leaders in health care. And as our work on everything from the Geriatrics-for- Specialists Initiative to the Geriatrics Workforce Enhancement Program can attest, those who aren't already in our ranks are now recognizing just how important (and, to our credit, welcoming) we are!
It seems pretty fitting, therefore, that I get to focus my last letter on the potential for the events and opportunities on our horizon. Some of them are concrete: #AGS17 (May 18-20 in San Antonio, TX), for example, already boasts one of the most comprehensive conference programs we've put together at the AGS. That's telling for our future, since the program is set against the backdrop of celebrating our 75-year past. For an organization that now boasts nearly 6,000 members, one of health care's most influential research journals, and a range of programs benefitting you and the older adults you serve, it's hard to believe that the country's first textbook dedicated to geriatrics wasn't even published until 1914!
Other events and opportunities are still unfolding. We've grown significantly in 75 years, but there's still much to be done to train more geriatrics experts, to expand the reach of our principles in other specialties, and to ensure that all older adults and caregivers receive high-quality, person-centered care. As we work to fulfill that mission—and as I've seen it come to fruition over my time as President—I'd like to extend my thanks to all the AGS members, experts, staff, and collaborators who have shaped our work in clinical practice, public policy, public education, and research on aging. What's now recognized as "geriatrics expertise" is a testament to what you do. As I pass the baton to Dr. Saliba in just a few short weeks, I know that one constant across our tenures will be our commitment to "vigorously continue" supporting our diverse community of geriatrics healthcare professionals and the many older adults who benefit from your care.
Ellen Flaherty, PhD, APRN, AGSF
President, American Geriatrics Society
Explore San Antonio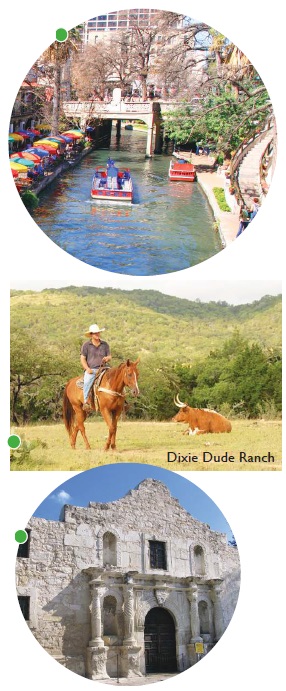 Everything is bigger in Texas—so we're celebrating the AGS's 75th anniversary in a big way by heading to San Antonio for #AGS17! Use this guide to get acquainted with "Alamo City" and all it has to offer. Looking for more things to do and see? Check out www.VisitSanAntonio.com.
Visit the River Walk
Stroll along the San Antonio River for a unique downtown experience at the iconic River Walk (www.TheSanAntonioRiverWalk.com), a big-city sanctuary with an antique feel. Shop, dine, or simply take in the view in a wonderful outdoor space that perfectly reflects the city's mild climate and southern hospitality.
Experience the Rich Arts Scene
San Antonio museums offer a rich array of history, culture, and art from all around the world. Neighborhoods like Southtown and King William draw crowds for their galleries and studios showcasing the work of local artists. Looking for something contemporary? Check out Artpace (www.Artpace.org), a contemporary art organization that welcomes guest curators and hosts an international artist-in-residence program.
Get a Bird's-Eye View
The 750-foot Tower of the Americas (www.TowerOfTheAmericas.com) provides guests a spectacular view of the city. Enjoy the panorama from the revolving Chart House restaurant or the Observation Deck, or try the 4D theater ride for an experience you won't soon forget.
Have a Texas-Sized Adventure
Thrills await at San Antonio's adventure and water parks, including Six Flags Fiesta Texas, Schlitterbahn Water Park Resort, Splashdown San Antonio, and Morgan's Wonderland. Bring the whole family for a fun summer retreat! Check out www.VisitSanAntonio.com for more details.
Get in Touch with Your Inner-Wrangler
Interested in an authentic Wild West experience? Check out the dude ranches and Western-style dance halls in Texas Hill Country, where you can be a part of the historic culture that created the American cowboy. www.VisitSanAntonio.com has a great overview of local options.
Remember the Alamo
A visit to San Antonio wouldn't be complete without a trip to San Antonio Missions National Historical Park, where four Spanish colonial missions, as well as the Alamo (www.TheAlamo.org), have been designated the first UNESCO World Heritage Site in Texas.
Come Hungry
Whether you find a quiet restaurant along the River Walk or check out the bustling activity in Market Square, you're guaranteed good eats in San Antonio. Visit old favorites like the County Line for some traditional Texas BBQ or try hot spots like La Margarita (www.LaMargarita.com) for Tex-Mex like no other.
Why I'm an AGS Member: Freddi Segal-Gidan, PA, PhD, AGSF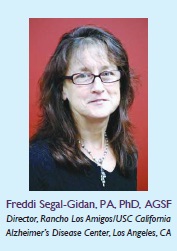 My path to my practice as a physician assistant (PA) in geriatrics was certainly inspired by my grandmother. A Russian émigré who died at 101, she was still navigating public buses in Southern California when she was 99. Her life was the epitome of what it means to age well.
That said, geriatrics wasn't the first profession I considered. After high school, I went to college but left to spend a gap year (before that became a thing) in Africa. From South Africa, I made my way (mostly by truck!) to London. My time in Africa—and that trip—changed my life. I cast aside other career notions (among them becoming a primatologist) and decided to train as a PA. I returned to college back in the U.S. and did my post-grad PA studies at Johns Hopkins University.
After living in Hawaii—where I practiced at a rural health center—and Israel with my husband (a pediatric dentist) during our first year of marriage, we ended up in Los Angeles for a short stay…that's now lasted 40 years.
Initially, my PA training was in primary care. A former classmate encouraged me to work with him at a multi-disciplinary medical practice in Los Angeles. The practice had just joined the Medicare Advantage program and they needed someone to work with older adults. It became a perfect fit for me.
While there, I was offered a yearlong geriatrics fellowship training opportunity at USC, and that's when I joined our Society. I attended my first Annual Scientific Meeting back in 1985 or so, at a time when PAs weren't even listed on the event registration form. That's something I felt strongly about changing as an AGS member, and I realized when I arrived at the meeting that I was among people who shared my worldview and my commitment to caring for older adults.
Even though there were few other geriatric PAs back then, the physicians, nurse practitioners, registered nurses, and social workers were indeed my kindred spirits.
I've built great personal relationships with AGS members over the years, and I've been actively involved in various committees. The Annual Scientific Meetings provide great opportunities to meet the people whose research you've been following over the years. Another thing I love about the field, and I think this may be unique to geriatrics, is how eager we are to share our knowledge with others. I've enjoyed seeing AGS evolve over the years to become totally inclusive, and I really appreciate its focus today on interdisciplinary teamwork.
One question I get a lot about my work in geriatrics is, "Don't you find it sad to work with people who are so close to death?" And my answer is that it's not sad at all. I get to travel to different cultures and even different eras through my work, because older people are so willing to share their life stories. I've heard first-hand about experiences I'd previously heard about only in history books. Geriatrics means you don't just practice medicine; you get to know people, and to take care of them within the context of their own lives.
AGS, AMDA, SGIM Issue Consensus Best-Practice Recommendations for Transitioning Older Adults from Skilled Nursing Facilities
Through a grant from the Association of Subspecialty Physicians, the AGS, the Society of General Internal Medicine, and AMDA—The Society for Post-Acute and Long-Term Care Medicine have released new consensus best-practice recommendations for transitioning older people from skilled nursing facilities (SNFs) to the community.
The recommendations are the work of a cross-cutting team of experts representing primary care, home care, transitional care, geriatrics, family and internal medicine, and several other stakeholders in older adult care, particularly in the SNF environment. Members of the team mapped the process of discharging older adults into the subsequent care of an outpatient primary care professional. Four areas of process improvement were identified, as were best practices perceived as feasible for SNF physicians and primary care practices. The goal of these consensus-based recommended best practices is to provide a safe and high-quality transition for the many older adults who move between care at an SNF and care at home or in the community. The recommendations were published in the February 2017 issue of the Journal of General Internal Medicine (DOI: 10.1007/s11606-016-3850-8).
AGS Extends Hip Fracture Co-Management Program That Sees Geriatrics Mending More Than Bones
With $1.4 million in renewed support from The John A. Hartford Foundation, the AGS has launched a new national program that positions geriatricians and geriatrics-trained clinicians as co-managers with orthopedic surgeons to improve care and health outcomes, while lowering costs, for older adults with hip fractures.
Geriatrics-orthopedics co-management incorporates a geriatrics approach to care as soon as possible after an older person enters the hospital for a hip fracture, helping to identify and reduce the risk for harmful events ranging from falls and delirium to infections. The model has been shown to reduce length of stay, re-admissions, and most complications, and to increase an older person's chances of going home directly from the hospital, often resulting in improved function and independence.
Hip fractures hospitalize more than 260,000 older adults annually, and could hospitalize 500,000 older adults each year by 2040. They are the third most costly diagnosis in the U.S., totaling more than $18 billion in 2012.
"Our joint investment and partnership with The John A. Hartford Foundation will lead to a new health enterprise to improve care quality and safety for older adults. We're confident the geriatrics-orthopedics model also will accelerate co-managed care in other areas, bringing geriatrics and other medical specialties even closer together," explains Nancy E. Lundeberg, MPA, AGS CEO. An earlier planning grant from The John A. Hartford Foundation allowed the AGS to develop a viable business strategy and implementation plan to disseminate the geriatrics-orthopedics co-management model to hospitals and health systems nationwide. Now, the AGS team will move forward with a three-year implementation plan for its first specialty-specific co-management program.
Project leads—Richard W. Besdine, MD, AGSF; Nancy E. Lundebjerg, MPA; Lynn McNicoll, MD, AGSF; and Daniel Ari Mendelson, MS, MD, FACP, CMD, AGSF—are now working with early-adopter sites to:
Create and test training, evaluation, and implementation tools for the co-management program;
Assist participating hospitals with measuring success and sharing lessons learned; and
Provide ongoing consultation, networking opportunities, and additional co-management resources as the program is expanded to a network of hospitals and health systems around the country.
National dissemination of the geriatrics-orthopedics model, coupled with AGS plans for additional specialty-specific co-managed programs, will change how geriatrics principles move from theory to practice across care settings. This transition is central to the AGS's goal of ensuring that all health professionals, regardless of discipline or specialty, are aware of and employ approaches to care that are unique to at-risk older adults with multiple, complex medical conditions. Geriatrics-orthopedics co-management also is central to The John A. Hartford Foundation's goal of implementing scalable, evidence-based models that can accelerate care improvement for older people and create age-friendly health systems nationwide.
Top 10 Reasons to Attend #AGS17
You're always in good company!
More than 2,500 healthcare professionals specializing in the care of older adults will be joining us at #AGS17. Don't miss this opportunity to join fellow geriatricians, nurses, social workers, family practitioners, physician assistants, pharmacists, internists, trainees, and many others.
You'll explore a range of topics across geriatrics…
#AGS17 will feature updates and insights on all things geriatrics, including case studies, clinical innovations and quality improvements, clinical trials, epidemiology, ethics, geriatric bioscience, geriatric education, geriatric medicine in other specialties, geriatric syndromes, health services and health policy, neurologic and behavioral science, and much, much more.
You're on your way to some serious CME…
#AGS17 attendees are eligible for tons of continuing education credits catering to a diverse array of health professions.
You'll never have a dull moment…
#AGS17 will feature hundreds of symposia, events, and networking opportunities focused on geriatrics research, education, policy, and healthcare delivery.
You're set to hear and see some serious speakers…
Plenary sessions at #AGS17 will feature some of the field's critical leaders in clinical care, health policy, and health research.
You can score a great deal (if you act fast)…
Attendees who confirm their spot at #AGS17 before Apr. 7 receive up to $100 off registration—and members of the AGS are always eligible for generous registration rates at any time.
You get a sneak peek at some of the latest product innovations impacting geriatrics…
Between our Tech Innovations Pavilion and our Product Theater Showcase, there's cutting-edge science at every turn at #AGS17.
You can mentor, network, and make an impact on the future of geriatrics…
#AGS17 attendees run the professional gamut, from our field's pioneers to those who are just beginning to explore a career caring for older adults. Get a sense for where geriatrics has been…and where it's going!
You'll be helping celebrate 75 years of caring for older adults…
This year marks the 75th anniversary of the AGS. Be sure to join us for a range of special events and activities spotlighting the leadership of the Society and our interprofessional members.
You'll be set to remember more than just the Alamo…
#AGS17 may be the city's headliner this May, but San Antonio already boasts a host of popular attractions, including the River Walk, Market Square, and the Alamo. Beyond the obvious, the city offers excellent art, shopping, and plenty of Texas hospitality.
Health in Aging Foundation 2016 Honor Roll of Giving
Special thanks to all our supporters.  Visit www.healthinagingfoundation.org for more.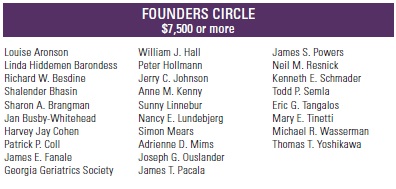 ANNUAL SUPPORTERS Contributions up to $999

Laura Elena Garcia

Juanito M. Garlitos

Stephanie Garrett

Alex I. Garrido

Sharon M. Gauthier

Paul Gee

Claudene George

Maria V. Ghetu

Heather Hopkins Gil

Thomas M. Gill

Anna Goehring

Otto Manfred Gogol

Sara Goldsberry

Patricia S. Goode

Carol S. Goodwin

Susan Gordon

Hiroshi Gotanda

Lisa J. Gould

Antonio Graham

Evelyn C. Granieri

Shelly L. Gray

Meredith Greene

William B. Greenough

Tomas L. Griebling

Mark Gruidl

Yolande Grumbach

Sivakoti Nagireddy Guda

Lorena C. Guerrero

Stephen D. von Gunden

Jerry H. Gurwitz

German Guzman Gutierrez

Jennifer M. Hackel

Lesca Hadley

Klaus Hager

Olwen Hahn

Theodore J. Hahn

Emily Hajjar

Derrick Hall

Sarah Ann McKenzie Hallen

Jeffrey B. Halter

Irene Hamrick

Laura C. Hanson

Susan E. Hardy

Vanessa Harrington

William Harris

Patricia Harris

Janice K. Hartman

Mary P. Harward

Deon Cox Hayley

Carroll Haymon

Arthur D. Hayward

William R. Hazzard

Jenna Henderson

George Hennawi

Kenneth Hepburn

Stephen A. Hermes

Bernard D. Herring

Mailee Hess

Kevin High

Emily Hilderman

Anne P. Hill

Darryl A. Hill

Richard and Susan Hirasuna

Marian O. Hodges

Maria del Pilar Hoenack-Cadavid

Pamela B. Hoffman

Holly M. Holmes

Diana C. Homeier

Erin Hommel

Helen Horvath

Carol J. Howard

Judith Howe

Angela Hsu

Nan-Shing Hsu

Amy Hsu

Alison Huang

Deborah Huang

Christopher G. Hughes

William W. Hung

Khaled A. Imam

Gary Inglis

Arthur Inoshita

Sharon K. Inouye

Deni Andy Irwanto

Shinya Ishii

Agron Ismaili

Sarwat Jabeen

Randa Jaber

Thomas W. Jackson

Ruxandra Jadic

Mary James

Vanita Jassel

Amer M. Jilani

Catherine Jin

Jason M. Johanning

Kimberly S. Johnson

Larry E. Johnson

C. Bree Johnston

Richard Norman Jones

Robert M. Kaiser

Scott A. Kaiser

Robert L. Kane

Mark R. Katlic

Carol A. Kauffman

Robin C. Kaufman

Vidya S. Kaushik

Natalie A. Kayani

Tatyana Kemarskaya

Michelle Keown

Lawrence J. Kerzner

Elizabeth Kessler

Joseph Kessler

Saeeduddin Khan

Kassem Abbas Khreis

Jane Kienle

James P. Killeen

So Dam Kim

Soo Chong Kim

Hunkyung Kim

Mary B. King

Duane Kirksey

Philip Kithas

Amandeep Kiddy Klair

Shari L. Kogan

Ann Kolanowski

Thuy Koll

Badrinath Konety

Lauren Kopchik

Tia Kostas

Richard Kratche

Karen Kruse

Prasanna K. Kumar

Chandrika Kumar

Kara Kuntz

Halina Kusz

Georges I. Labaze

Helene Labonte

Thomas W. LaGrelius

Simon Ching Lam

John Eugene Lammers

Vicki T. Lampley-Dallas

Charles Seth Landefeld

Pierre Olivier Lang

Aaron J. Lazar

Erin Leahy

Lee A. Learman

Cathy Lee

Sei J. Lee

Maria Lee

Kuo-Wei Lee

Taryn Lee

Benedictus de Leest

Bruce A. Leff

Sara Leonard

Michael Lerch

Sharon A. Levine

Ina Li

Amy Light

Michael C. Lindberg

Lewis A. Lipsitz

Veronica M. Lofaso

Nancy Losben

Jane Lowers

Bruce Lowrie

Feng-Ping Lu

Julia Lubsen

Kenneth W. Lyles

Perla M. Macip

Amy R. MacKenzie

Keisuke Maeda

Deviani Maher

Karen Mailer

Miguel Maldonado

Justinder Singh Malhotra

Rubina A. Malik

Alfred Adebayo Malomo

Aaron Joshua Malsch

Natalie Ann Manley

Tania Antonella Gomez Marcial

Jeffrey De Castro Mariano

Alayne Markland

Jane L. Marks

Marina Martin

Michael D. Mason

Lauren Marie Massaro

Haitham Mazek

Lauren Mazzurco

Rowena McBeath

Jack Marvin McBride

Alison L. McElhone

Paul McGann

Sarah M. McGee

Brian J. McKinnon

Ayanna Jeannette McKinnon

Matthew K. McNabney

Marcia Cathleen Mecca

Daniel B. Meetze

Radhika Mehra

Alexandra Meier

Fernando Melo

Daniel Ari Mendelson

Isaura Menzies

Lee Meyer

Myron Miller

Karen L. Miller

Lillian C. Min

Sarah Miner

Michael J. Mintzer

Devyani Misra

Arvind Modawal

Gaston Molina

Louise Monk

Manuel Montero-Odasso

Alison A. Moore

Syed Moqeeth

Mario Moreira-Villalaz

Charles P. Mouton

Stephen D. Mueller

Rob Muhammed

Paul L. Mulhausen

Zakkiyya Mumin

Kevin Munjal

Terrence Edward Murphy

Nicolas Musi

Cheryl Mustain

Aanand Naik

Cheynie Nakano

Adria Navarro

Arif Nazir

Mark David Neuman

Alicia Neumann

John Newman

Catherine Nicastri

Walter J. Nieri

Harmke Nijboer

Joseph O. Nnodim

Dean Norman

Mireille Norris

Daniel Oates

Nora OBrien-Suric

Mary Beth O'Connell

Olusegun A. Odukoya

Esther Oh

Rachel Okabe

Bonnie Jean Olsen

K. M. O'Malley

Lih Vei Onn

Thet N. Oo

Gretchen M. Orosz

Mallory Otto

Jennifer Andreozzi Ouellet

Jason Overby

Andrea Pace

Marco Pahor

E. Maria Pahuana

Emmanuel Paintsil

Mary Happel Palmer

Robert M. Palmer

Todd R. Palmer

Monica Pang

Armida Parala-Metz

Kourosh Parham

James Park

Jason Park

Robert Warren Parker

Sylvia Parker

Manisha Parulekar

Walfrido B. Patawaran

Neela K. Patel

Maria Pavlou

Renee Pekmezaris

Heather G. Peltier

Felipe Pablo Perez

Carla Perissinotto

Seth Perkins

Elvin Tedd Perry

David R. Persaud

Matthew Personius

Elyse A. Perweiler

Mark I. Petersen

Preston Peterson

Tommy J. Petros

Thomas Keller Pettus

Steven L. Phillips

Veerawat Phongtankuel

Deirdre P. Pierce

Edgar Pierluissi

Veronica A. Pinto-Miranda

Laura Plantinga

Carrie L. Pohl

H. H. Wylie Poindexter

Peter Pompei

Joel Posner

Phillip William Poth

Edger V. Potter

Becky B. Powers

Laura Ann Previll

Genie Pritchett

Alec Pruchnicki

Dunthur M. Puttaswamy

Joyce Qaqundah

Kofi Quist

Barrie Raik

Bharathi Raman

Rajeev Ramchandran

Jennifer Ramona

Luz S. Ramos-Bonner

Margaret O. Rathier

Donna Brady Raziano

Joseph Rees

Scott E. Regenbogen

Donna I. Regenstreif

William Reichel

Marie Reid-Durant

Rebecca B. Reilly

Roger A. Renfrew

Marjorie M. Renfrow

Luis A. Reynoso

Yuliya V. Riat

Michael W. Rich

Robert G. Riekse

Andrea Rink

Katherine Ritchey

Veronica Rivera

John Roberts

Miriam Rodin

Lidia Rodriguez

Ismael Rodriguez

Sonja Rosen

Lisa Joy Rosenberg

Ted R. Rosenberg

Allan O. Rosenfield

George Rosenthal

Ronnie A. Rosenthal

Albert Stephen Rudock

Yamunadevi Sadasivan

Firas Saidi

Rola Abi Saleh

Marisol S. Sanchez-Lance

Bhanuprasad D. Sandesara

Martine Sanon

Catherine A. Sarkisian

Fen Sartorius

George L. Saunders

Lester R. Sauvage

William E. Schaeffer

Sarah E. Schall

Andrew Schechterman

Heather Bennett Schickedanz

David J. Schifeling

Jeffrey Schlaudecker

Robert J. Schreiber

Edna P. Schwab

Margaret L. Schwarze

Krystal E. Scott

Andrea Scott

David R. Scrase

Freddi Segal-Gidan

Mandi Sehgal

Hubert Seiler

Joel A. Sender

David Sengstock

Gerardo A. de Sequera

Belinda Setters

Armin Shahrokni

Rita A Shapiro

Himanshu S. Sharma

Keerti Sharma

Soorya Sharma

Kristi Kim Shaumeyer

Karine Shearon

Randy J. Shinn

Ronald I. Shorr

Pranabh Shrestha

Alina Sibley

Herbert C. Sier

Zachary W. Simpson

Aaditya Singhal

Albert L. Siu

Sithamparanatha Skanthan

Maximiliano Smietniansky

Elizabeth N. Smith

Kristofer L. Smith

Rani Snyder

Linda Sohn

Laurence Michael Solberg

Sue S. Spackman

Mary A. Spivey

Lynn Spragens

Andrea Springer

David O. Staats

Anne Stanley

Holly Stanley

Samuel Stanton

Kristan Staudenmayer

Karl Steinberg

Lee M. Stetzer

Adriana von Storren

Lisa Strano-Paul

Dale C. Strasser

Carl E. Strauch

Edward J. Strauss

Amanda Su

Theodore T. Suh

Gail M. Sullivan

Viswanatham Susarla

Steven K. Swedlund

Quratulain Syed

George E. Taffet

George Taler

Sakina Ouedraogo Tall

Amy Taniguchi

Marci J. Teresi

Katherine Thompson

Maung Maung Tin

Kenji Toba

Maggie Torsney-Weir

An Hong Tran

Vu Tran

Marvin C. Trani

Laura Trice

Bruce R. Troen

Joanna Isabelle Trojanowski

Eric Troyer

Daniel E. Trucil

Dale Tucker

Katren Tyler

Suganthini Umakanthan

Gwen Uman

Noel Ursua

Ann E. Vandenberg

Maurits Vandewoude

Lisa Vargish

Camille Vaughan

Anthony T. Vela

Joe Verghese

Richard M. Wacksman

Heidi Wald

Adrianne Wallace-Bearak

Margaret I. Wallhagen

Louise Walter

Hsin-Yi Janey Wang

Harry A. Ward

Katherine Ward

Gregg Warshaw

Maureen Ann Watson

Christine Weber

Nancy T. Weintraub

Charles Weiss

Carolyn Welty

Aida B. Wen

Gilbert L. Wergowske

Heidi K. White

Heather E. Whitson

Jeremy David Whyman

Heidi R. Wierman

Jocelyn E. Wiggins

Amy Wilkerson

Jeremy T. Wilks

David B. Wilson

Nancy L. Wilson

Blythe S. Winchester

Peter A. Winn

David I. Wollner

San San Wong-Lee

Elise Worley

Barry J. Wu

Shirley Wu

Hakan Yavuzer

Mrilini Yeddu

Jeffrey K. Yee

Priscilla Yee

Gwen W. Yeo

Sin Kei Yeung

Xiaoshuang Yin

Thirumagal Yogaparan

Michi Yukawa

Ezequiel Zamora

Myo Zaw

Kristy A. Zechiel

Haiyan Zhang

Ning Zhang

Rose Maria van Zuilen

Care Wisconsin

Saint Mary's Hall

 

*Donors as of January 4, 2017

 
Health in Aging Foundation Tip Sheet: What You Should Know About Advance Directives
What medical treatment would you choose if you had a stroke that left you unable to speak and completely dependent upon other people? If you were terminally ill and near death, would you choose to be resuscitated if your heart stopped beating? Experts say it's important to answer these questions, even though they can be difficult, and share your answers with those close to you, so you receive the care you want in such situations— even if you're unable to communicate them on your own.